SuperEnalotto Instant Win
Instant Win (Vincita Immediate) gives you a 1 in 500 chance of instantly winning a prize, every time you play SuperEnalotto. Available to both retail and online players, this feature is played at the point of purchase and does not affect your chances of winning a prize in the main SuperEnalotto draw.
Once you have completed and paid for your SuperEnalotto entry, you receive a game receipt, featuring a Magic Square (Quadrato Magico) containing four random numbers.
Should all four figures in the Magic Square match numbers you are playing in the main game (excluding SuperStar numbers), you receive an Instant Win prize of €25. If you have multiple entries on your ticket, you still win the prize even if all four figures in the Magic Square exist across multiple lines. When playing online, the Magic Square automatically lights up green if you've won.
Here is an example of ticket that has won the Instant Win prize: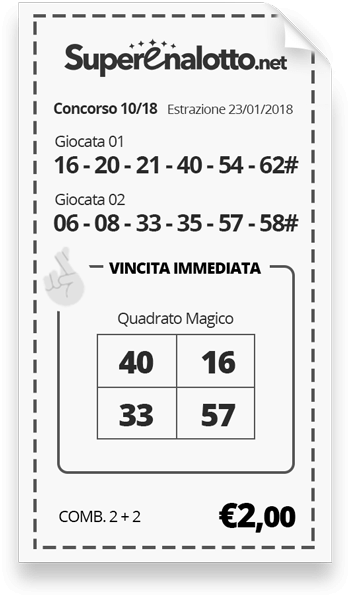 In total, one ticket in 500 purchased wins the €25 instant prize ahead of the SuperEnalotto draw, corresponding to 8.4% of the prize pool.
Although this win rate and payout is set, the lottery operator can apply to the government to change the Instant Win prize to any figure between €25 and €1,000, and at any frequency between 1 in every 100 sold to 1 in every 20,000 sold.
To remain eligible to win in this game, you cannot play a system entry using more than 80 different SuperEnalotto numbers.
With each validated game receipt you can make no more than one instant win, unless a game containing more than 500 different combinations has been validated.
As the name of the game suggests, Instant Win prizes can be claimed instantly. When you play at a retailer, you can either collect your winnings straightaway or wait until after the main SuperEnalotto draw has taken place, in the event you also win a prize in the main draw. When you play online, the amount is automatically credited into your online account.
If you do claim an Instant Win prize before the main SuperEnalotto draw, make sure the member of staff returns your ticket after validating it, because you will need it to claim any prizes you may win from the main SuperEnalotto game.
As with all SuperEnalotto prizes, claims must be made within 90 days of the draw date.